Splicing tape for release paper
The splicing tapes for release papers are used to splice sylicon and casting release papers, both flat and embossed. The upper tape has a special adhesive developed to perfectly adhere on the "release" side, where other kind of tapes would not adhere.
The lower tape is developed for head-to-head splicing and other applications in paper industry.
The Komet splicing tapes guarantee high resistance even with high temperature, the application is very easy using the spatula supplied, prices are very competitive, prompt delivery.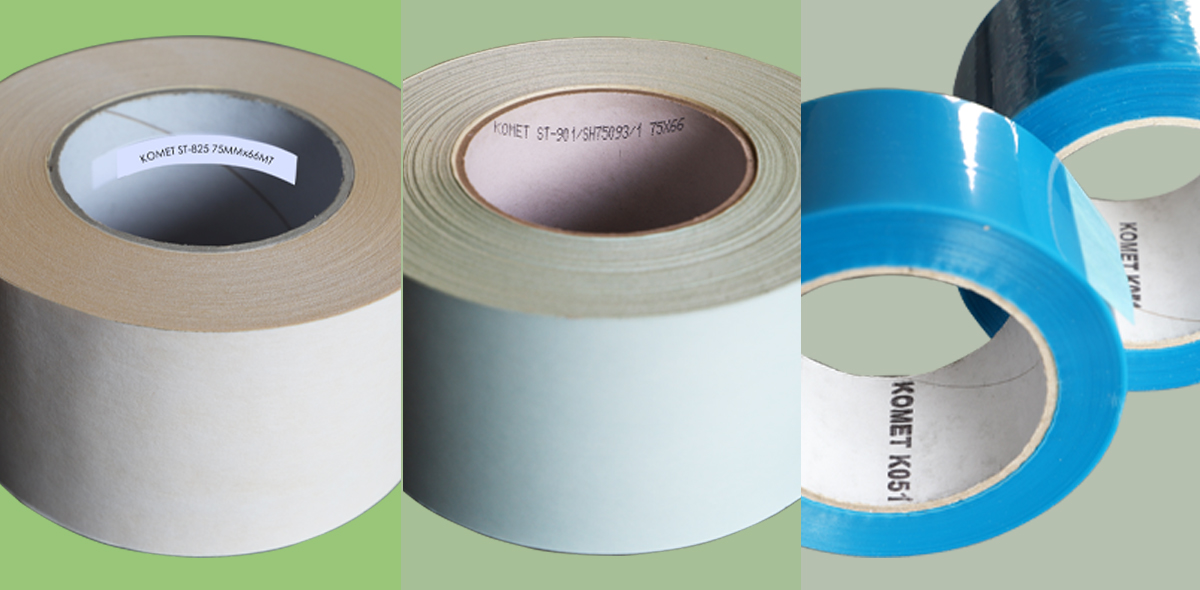 ST825 White Lower tape
Siliconized paper tape with high cohesive repulpable adhesive
Rolls are 66 meters long, H 75 mm
Suitable to splice every kind of release paper
Great resistance at high temperatures
White color
ST901 Light Blue Lower tape
Premium siliconized paper tape with high cohesive repulpable adhesive
Rolls are 66 meters long, H 75 mm or 100 mm
High tensile strength, Safe splices at any kind of stress.
Great resistance at high temperatures
Light Blue color
K051 Blue Upper tape
Siliconized polyester tape with special silicon based adhesive
Developed for splicing silicon and release papers used in synthetic leather casting
Great resistance at high temperatures
Rolls are 66 meters long, H 50 o 75 mm.
Blue color
Lower tape
Place the paper's head on the tape
and put pressure
with the supplied spatula
Upper tape
Apply the K051 upper tape
centering it on the junction line
of the release papers
Tape application
Apply the tapes with the supplied spatula
putting some pressure